Bloum is releasing two new features to help schools better interpret and utilise NAPLAN data with its November update to the platform. 
The new Equivalent Year Level feature translates NAPLAN Scale Scores into an expected year level where the average student will achieve an equivalent Scale Score. 
For example, a Scale Score of 400 in reading translates to an Equivalent Year Level of 2.3. This means an average student a few months into Grade 2 will be able to achieve a score of 400 should they sit the NAPLAN exam. 
Meanwhile, the Years of Progress feature takes an individual student's progress over successive NAPLAN exams and translates the difference in Scale Scores into a metric to measure student progression. 
If a student scores 409 in numeracy in Year 3 and improves to 515 by Year 5, this 106-point increase represents 2.5 Years of Progress, meaning the student is progressing ahead of schedule.
You can find an example of the two new metrics below. For a complete explanation, head to our blog post here: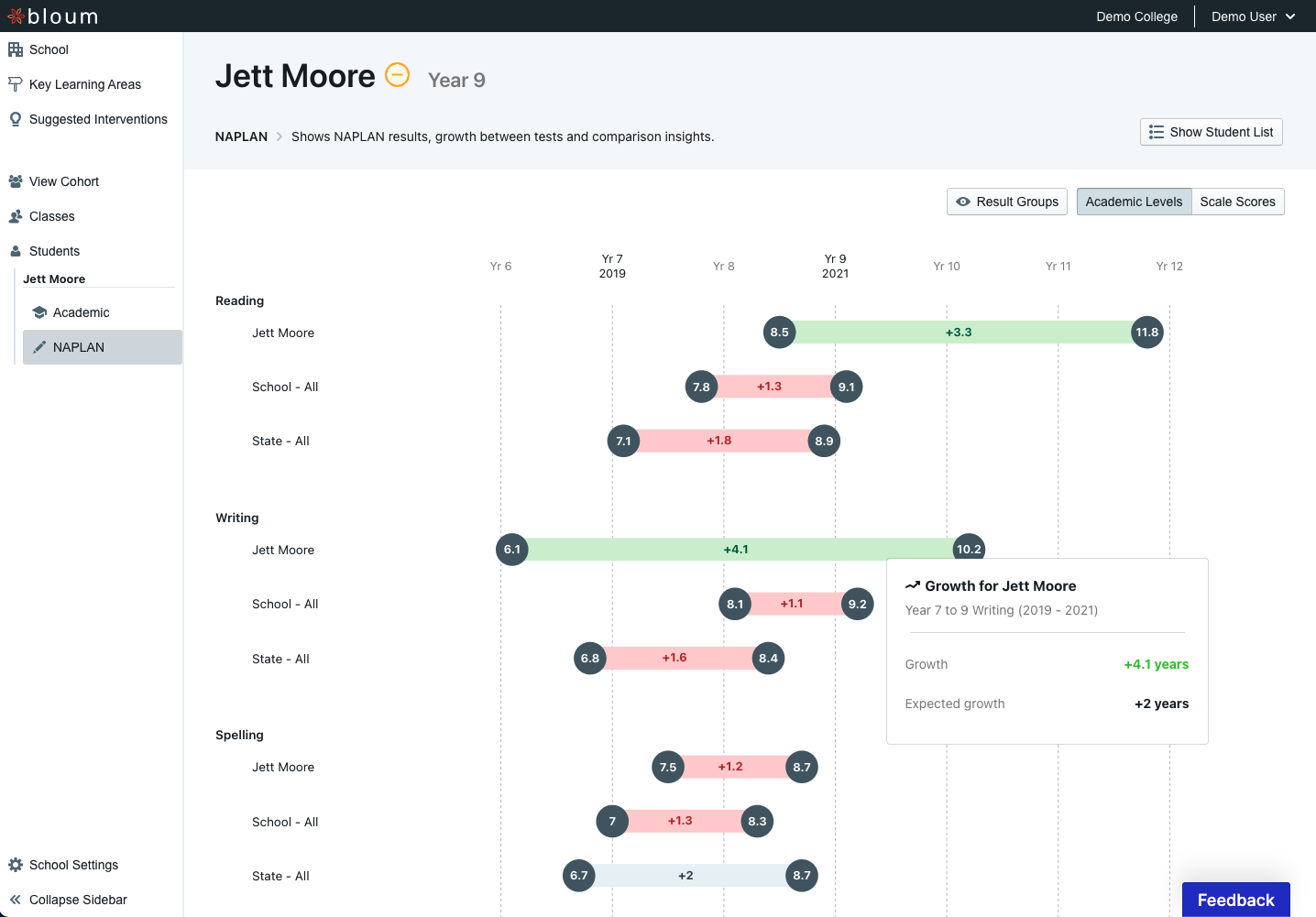 Head of Education Innovation Clancy Merrett says the two new metrics come as a welcome addition to schools by addressing a significant pain point with NAPLAN data usage. 
"NAPLAN data has always been tricky to interpret for schools, but it becomes a massive problem when you have hundreds of students with data to mine through," Merrett says. "Many teachers end up never using NAPLAN data in their classroom practice."
Merrett believes the new updates will help teachers better visualise and understand NAPLAN Scale Scores. 
"The advantage of the Bloum learning analytics platform is that it does all of the work for you. It allows teachers to use their time building effective strategies for their classrooms rather than reading the pages and pages of raw data."
The new features will be automatically integrated into the Bloum platform.